What Will I Experience During Cataract Surgery?
How do I get ready for cataract surgery?
Before surgery you will have a full eye exam to make sure that any other eye problems are detected and addressed before surgery.  Measurements of the eye will be taken to help us determine the power of lens implant needed. These typically include an A-scan , mapping of the cornea (known as corneal topography), and often a macular scan as well. While you are in the office, we will discuss various lens implant options and discuss the choice of lens implant to be used.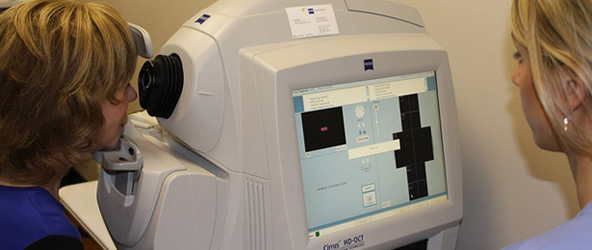 ---
Why do I need to see my primary care doctor before cataract surgery?
We will ask you to be seen by your primary care doctor within 30 days of surgery to be "medically cleared" to undergo cataract surgery. This means your primary care doctor will examine you and determine if your overall health is stable enough for surgery. Because general anesthesia is NOT required (see below), even patients with multiple medical problems are usually cleared by their physicians. If you do have underlying medical problems, your doctor will wish to make sure these are reasonably well controlled prior to any elective surgery.
---
Do I have to take eye drops before cataract surgery?
You will begin taking eye drops about 2 days before cataract surgery. There are three types of drops: an antibiotic and two anti-inflammatory medications. We will ask you to take each of the three drops starting 3 days before surgery.  We ask patients to wait 5 minutes between the different eye drops so that the drops don't dilute each other out. The drops are generally tapered over the course of several weeks after surgery to prevent infection and inflammation.
---
"Dropless" cataract surgery: what is it and why do we prefer not to use this approach at this point?
We typically ask our cataract patients to use drops on a tapering regimen, over the course of about a month postoperatively. The drops include an antibiotic, a steroid, and a nonsteroidal anti-inflammatory (NSAID) medication. Some surgeons prefer to give an injection at the end of surgery that includes the antibiotic and steroid. This is done in place of the postoperative drops, though some patients still require topical drops if they have a little more inflammation than average. While the "dropless" method is more convenient for patients, it does have some disadvantages.
The injectable medication does not include an NSAID drug, and NSAIDs can be very helpful in preventing postoperative inflammation and swelling under the retina that can slow visual recovery.
The injectable medication contains a steroid which can raise eye pressure in some patients. If the pressure were to rise enough, surgery would be required to remove the steroid (as opposed to just stopping a topical steroid drop).
The injectable medication contains particles that can make the vision slightly hazy initially after surgery and take some time to clear.
While we will likely switch to "dropless" cataract surgery once the injectable medication available has been improved, for now the drops have advantages. Should you strongly prefer the option of injectable postoperative medication, we are willing to offer this to you, but will want to discuss it further with you first because of the above disadvantages.
---
Do I have to stop blood thinners before cataract surgery?
Blood thinners do not have to be stopped before cataract surgery. Because we are not working on tissues that contain blood vessels, bleeding is usually not a major concern. Patients taking Coumadin, Warfarin, Plavix, Eliquis, Pradaxa, Ibuprofen or Aspirin do NOT generally have to stop these medications.
---
What happens the night before cataract surgery?
We ask you not to have anything to eat or drink after midnight on the night before surgery. You may, however, take your regular medications with a sip of water. For patients with diabetes, your primary care doctor will let you know how to dose your diabetes medication on the day of surgery, as sometimes they will prefer for you to hold these until after the procedure.
---
What happens when I arrive at the surgery center?
On the day of surgery, we ask you to arrive about an hour before the planned surgery. We operate primarily out of North Shore Surgery Center in Lincolnwood, but also at Glenbrook Hospital in Glenview. The nurses and the anesthesiologist (the doctor who administers medication to keep you comfortable during the procedure) will review your medical history and administer drops to dilate your pupil. We will talk to you before surgery to confirm the type of lens implant we plan to use and any other issues specific to your surgery.

---
Is cataract surgery painful?
You will be given eye drops to numb the eye.  The anesthesiologist will give you medication through an I.V. to relax you. If you are still anxious or not fully comfortable, additional  I.V. medication is given so that you are essentially asleep through the procedure. You may be awake or asleep during the surgery depending upon the amount of sedation given, but you will not be uncomfortable. There is no pain during cataract surgery. You will feel cool water flowing over your eye at times, and perhaps a painless touch around the eye or a very light pressure sensation, but no pain. You may see colorful lights during the procedure as well – this is normal. The surgery generally takes about 20 minutes, but because the I.V. medication relaxes you, it seems a lot faster to most patients.
What care is needed after cataract surgery?
You will be kept at the surgical center for about a half hour after surgery. The nurses will make sure that you are feeling well. They will review your instructions and give you written instructions to take home. We ask patients to call or page the surgeon if there are ANY questions or concerns, Dr. Wyse carries a pager at all times and Dr. Bamba is available on her cell phone at all times. Because of the I.V. sedation during the procedure, you will need someone to drive you home from surgery. If your friends or family are not available to pick you up, our office can provide you with names of services that can do this. We ask that for at least 24 hours you do not drive or make any important decisions. You will be using the same eye drops that were started 2-3 days before surgery.  You will see your surgeon the day after surgery.
---
What restrictions are there after cataract surgery?
We ask you to wear an eye shield while sleeping for one week after surgery. This is so that you do not press on or rub your eye inadvertently while sleeping. You do not need to wear the shield while awake. You may shower and wash your face and hair even on the same day as surgery. Just try not to press on the eye or get a lot of water in the eye. For one week we ask you to avoid things that might promote  infection: swimming pools, hot tubs, yard work/gardening, or eye makeup. You should not lift heavy objects for one week after surgery.
---
For more detailed information on cataracts, cataract surgery, and different types of lens implants please select a topic below: