Laser Cataract Surgery in Northbrook
What is laser cataract surgery?
Laser cataract surgery is the most technologically advanced option for cataract surgery. This bladeless cataract surgery enhances both the precision and safety of the procedure. Until recently, cataract surgery has been performed primarily using hand-held blades and ultrasound. The development of the Femtosecond laser allows the surgeon to use laser instead of blades and also reduces the amount of ultrasound energy used in the eye. The laser has a built in imaging device (optical coherence tomography) which is able to obtain real-time 3D images of the eye during surgery. This allows for precision that cannot be achieved with traditional cataract surgery. It also allows the surgeon to customize each surgery to the individual patient's eye while effectively positioning an advanced technology lens implant.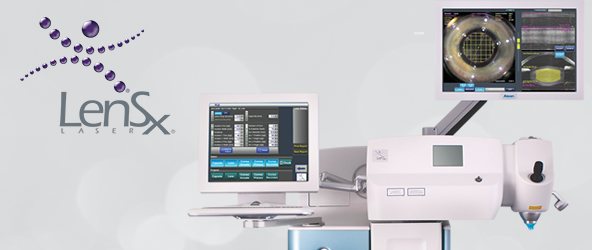 When patients are seen for their cataract examination it will be determined if they are candidates for this exciting and advanced blade-free technology.
Does laser cataract surgery assist in giving better vision after surgery?
Astigmatism is irregularity in the shape of the surface of the eye that causes blurring of images. While astigmatism can be corrected with glasses, for those who wish to see well without glasses, correction of astigmatism at the time of surgery is important. For larger amounts of astigmatism, this can be done with special lens implants (Toric IOLs). The real-time imaging built into the laser allows for more precise placement of the astigmatism correcting lens implants. For smaller amounts of astigmatism, incisions in the cornea can be used instead of Toric IOLs. Traditionally performed using hand-held blades, these correcting incisions can now be performed using the laser. This produces more precise astigmatism correction, and therefore lesser dependence on glasses postoperatively.
Benefits of laser cataract surgery?
Safety – Less ultrasound energy is needed, and there is less stress on the cornea and less inflammation.

Precision – Even an experienced surgeon cannot duplicate the precision of incisions made by the laser.

Predictability – The reproducibility of the corneal incisions and the lens capsule opening provide for more predictable lens implant position and astigmatism correction. This lessens the need for glasses after surgery.

Customization – The built-in 3D imaging ability of the laser allows treatment to be tailored to the individual eye to a degree that is not possible with traditional cataract surgery.
Limbal Relaxing Incision (LRI)
Limbal relaxing incisions are small, partial thickness incisions made on the surface of the eye (the cornea) to correct astigmatism. LRIs can treat relatively small amounts of astigmatism by causing subtle changes in the curvature of the cornea.
LRIs are done at the time of cataract surgery to help reduce a patient's dependence upon glasses after surgery. While astigmatism, like nearsightedness or farsightedness, can be corrected with glasses, patients who wish to be more independent of glasses may choose LRIs.
LRIs can be performed either with laser or a hand held blade. Dr. Wyse uses the LenSx laser to perform LRIs during laser assisted cataract surgery. The laser is more precise than hand held instruments, even for very experienced surgeons. The LenSx laser has a built-in 3D imaging device that scans the eye during the procedure to allow for incredibly precise partial thickness corneal incisions.
For correction of larger amounts of astigmatism, an astigmatism correcting lens implant (Toric IOL) is a better choice. For smaller degrees of astigmatism, LRIs work very well.
The LRI procedure is painless, and at most there is typically a slight foreign body sensation for a day or two after the procedure.
For more detailed information on cataracts, cataract surgery, and different types of lens implants please select a topic below: