ReSTOR® Multifocal IOL
What is a Lens Implant?
A cataract is the clouding of the natural lens in the eye that occurs with age. During cataract surgery, the natural lens is removed and replaced with a man-made lens (an intraocular lens implant or IOL). There are now many different types of IOLs available.
---
Schedule a Consultation Today!
What is a ReSTOR® Lens?
The ReSTOR® lens is a type of intraocular lens implant (IOL) that can be used in cataract surgery. The goal of this IOL is to allow patients to see at near and far distances without glasses. Rather than being a lens with a single power throughout, it has concentric rings of different lens power so that there is a full range of vision, near to far, that is in focus without the need for glasses. This lens has been used since 2005 and has an excellent track record. It is a great lens for people who want to be able to both drive and read without glasses. People who play sports such as golf or tennis can enjoy good distance and near vision without loss of depth perception.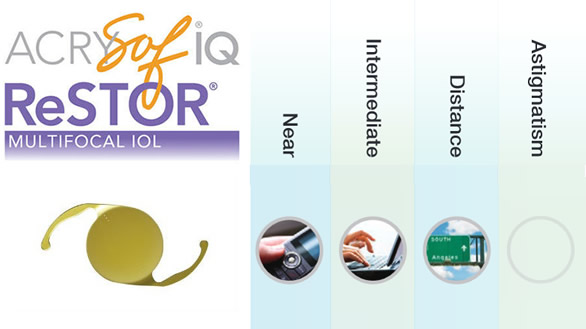 ---
---
Will I Still Need Glasses After a ReSTOR® Lens Implant?
About 80% of patients with this IOL implanted in both eyes report that they never need glasses. We tell our patients that this means they may need glasses for some activities, but should generally be fairly independent of glasses for most things. While some patients may wear glasses for night driving or reading in low light (a restaurant menu, for example), most patients do not end up wearing glasses much, if at all.
How do I know if I am a Candidate for the ReSTOR® IOL?
There are several factors that need to be taken into account. The main concerns are the overall health of the eye and the amount of astigmatism present in the eye.
First, we look at the overall health of the eye. If an eye has macular degeneration, severe glaucoma, corneal scarring, or other significant causes of vision loss apart from the cataract, the ReSTOR® lens is not likely to provide as good a result.
Second, we review data from a wide variety of computerized scans of the eye that are done in the office. These include a corneal map, ultrasound measurements of the shape and length of the eye, and a macular scan. None of these are invasive tests, and they are performed during your office visit. If the results indicate that the eye has significant astigmatism of the cornea (an irregular surface of the eye), a ReSTOR® Toric IOL can be used. This is a multifocal IOL that also corrects astigmatism.
Schedule a Consultation Today!
Patient Testimonial
"Best ophthalmologist I've ever been to see. No pun intended. Thorough, caring and professional. Dr. Wyse Is a gem. I called as a new patient, referred by an ER doctor, and I was scheduled immediately."

– Sheri G.
---
What are the Side Effects of the ReSTOR® IOL?
Overall, cataract surgery is considered a very low-risk procedure. It is, nonetheless, a surgery, so there is a risk of complications. The size, shape, and acrylic material of the ReSTOR® lens are identical to a standard lens implant (monofocal or single vision IOL), so the placement of this lens does not pose an increased risk during the surgical procedure. The main downside to this IOL is that some patients will experience glare after surgery. This tends to be noted during night driving. In general, this complaint is usually mild and tends to dissipate with time. When we ask patients if they have glare in the first few months after surgery, some do, but it is rare for this to be a significant issue. This generally resolves gradually over 6 to 12 months without any intervention.
If you are interested in seeing your best without glasses, please call our office so we can schedule a time to evaluate the appropriateness of this technology for you. Together we will discuss the benefits, risks, and cost so you can make an informed decision.
---
For more detailed information on cataracts, cataract surgery, and different types of lens implants please select a topic below:
---
Schedule a Consultation Today!
Call Today!  (847) 497-2020  Or Click Here To Request An Appointment Online!