Azzrah Thobani OD, FAAO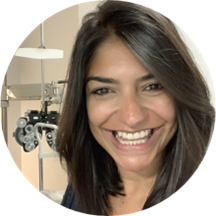 Dr. Azzrah Thobani received her bachelor's degree at McGill University, Montreal and her Doctorate of Optometry in 2009 from the Illinois College of Optometry, where she graduated with honors.  After graduation, she completed a medical retina fellowship in Hereditary Retinal Disease at the University of Illinois in Chicago, where she authored and co-authored research papers and posters. She is a fellow of the American Academy of Optometry.
Dr. Thobani's passion for eyecare stemmed from her volunteer work at Lions SightFirst Eye Hospital in her hometown of Nairobi, Kenya, where she saw firsthand the impact of providing comprehensive patient care to help eliminate preventable and treatable blindness.  Dr. Thobani is dedicated to quality care of her patients, advocating for preventative health care and the importance of annual eye exams with an emphasis on patient education on ocular health and eyecare. Her passion for eye health has resulted in frequent eye care mission trips to Honduras, Thailand, and Rwanda, where she has dedicated her time to outreach programs that improve vision for those in need.
When not seeing patients, she enjoys spending time with family and friends, traveling, trying new restaurants, and working out.